Tough choices
By Christer Idhammar, IDCON, Inc.
The figures in this article describe an actual case where a pulp mill decided to do whatever it took to cut costs - mainly through maintenance cutbacks. The mill belongs to a big corporation and was a high-cost producer. When the cost saving initiative started, pulp prices were low and profitability was low, from a short-term perspective, compared with other mills in the corporation. The fast-pace cost reduction actions included the following:
Operations took over maintenance and only did maintenance work that was judged necessary.
Planning of work was not done.
Scheduling ceased to exist.
The Preventive Maintenance program was handed over to the operators, without training them in what to do or how to inspect. The Preventive Maintenance inspectors were laid off.
Shutdown crews were merged with another mill that was a one-hour drive from the mill.
Painting programs were abandoned.
Training of craftspeople stopped, etc.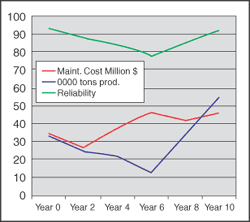 Figure 1.
The first two years maintenance costs dropped, then started to increase. Reliability and quality production throughput also went down and continued to do so for the six years before reinstatement of basic maintenance processes.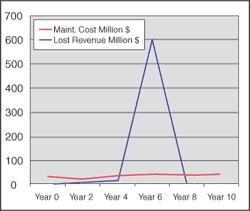 Figure 2.
Same data as in chart one but in financial terms ($ values are per year). Short- term maintenance savings during two years caused disastrous results after only three years.
NO LONG-TERM ADVANTAGE
In the first years after the cost saving initiative began, maintenance costs dropped from $35 million/year to $27 million/year, and results were hailed as good. However, reliability soon started to decline. When the initiative started, reliability was 93%, but bottomed out at 78% six years later, at a time when pulp prices had doubled.
The drop of 15% in reliability, and even more in quality production output, corresponded to a loss of more than 300,000 tons during some very good years when product could have been sold at top prices. Financial losses, due to low reliability resulting from the cuts in maintenance spending, were conservatively estimated to have exceeded $1.2 billion during a three-year period.
TIME TO TURN AROUND
After realizing the catastrophic consequences of its cost saving initiative, the mill focused on bringing its maintenance up to world-class status. Results have been very encouraging, and today the mill is a top performer, with reliability now approaching 94%. Maintenance costs have gone up, but so has quality production throughput. Manufacturing costs per ton are also lower.
The actions taken to bring maintenance to world-class status included:
Reinstating Preventive Maintenance inspectors and revising the Preventive Maintenance program;
Bringing maintenance back as a central mill function;
Developing a partnership between maintenance and operations;
Focusing on planning and scheduling;
Developing employee capabilities toward joint performance goals;
Investing capital in new equipment and restoring worn out equipment.
During the 16th annual Pulp & Paper Reliability and Maintenance Conference in Atlanta, held jointly with Paper Summit this past March, a similar experience was presented as a case study. For copies of this presentation, please contact Christer at: C_Idhammar@idcon.com.
---
If you wish to copy or distribute this article, please email me to ask for permission first!
(Permission will generally be granted, so long as appropriate credit is given to its origin).
---
Copyright 1996-2009, The Plant Maintenance Resource Center . All Rights Reserved.
Revised: Thursday, 08-Oct-2015 11:54:52 AEDT
Privacy Policy