Steam Trap Management Software - providing the basis for "fact-based" decision making
---
Author : Bruce Gorelick, V.P. of Marketing for Conserv-it Software
---
According to major steam trap manufacturers, compiled data has demonstrated that if there has been no steam trap inspection and maintenance pro-gram, upwards of 50% of the steam traps at a particular location may be wasting steam. It is only through a consistent, regularly scheduled trap maintenance program that effective savings can be achieved. Below we detail a conservative estimate of those savings. The data is general and may not necessarily reflect the exact situation in your plant.

In a system of 1,000 steam traps, it is assumed that the average orifice size of a blow-through is estimated at 1/16 inch, the average pressure is 150 psig, and the cost of steam production is $4.00/1,000 lbs. It is also as-summed that the plant steam is in operation 365 days/year, 24 hours/day. Based on these assumptions, the steam loss per day is 453 lbs. per trap at a cost of $1.81/day/trap or $662.25/year loss per trap. A conservative assumption that only 10% of the traps are faulty would result in an annual cost of $66,225 in lost steam within the system.

The time to stop neglecting or taking a steam system for granted is now. The rise in fuel costs over the past fifty years should have jolted you into the realization that poorly maintained steam systems makes no financial, engineering or moral sense. For over the past twenty years, I have pondered why steam systems are treated as second- class citizens. Some of the reasons I theorized are:
Lack of manpower: It is true that cutbacks have depleted many facilities of the pipe fitters and steam reliability personnel necessary to maintain their systems.
Lack of expertise: Few people at most facilities are well versed in how the system should be tested or maintained.
Management does not consider the system a high priority for resource allocation: If they only realized the tens of thousands or millions of dollars they have been wasting over the years.
Escalating energy (operating) costs are taken for granted: Many plants do not meter their steam to individual departments; system add-ons are used as the excuse for purchasing additional boilers; no method in the plant exists that can indicate they are using twice as much fuel as they should be.
Creating a good predictive maintenance program for steam traps takes vision and an unrelenting commitment to manage the steam system.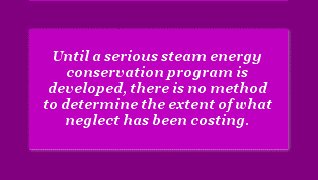 By properly managing the steam system, not only will you improve the plant bottom-line by reducing fuel consumption, you will impact the world environmental community by vastly reducing toxic boiler emissions.
Making the case for purchasing good software:
...one of numerous examples.
Good steam trap management software permits you to make important judgment calls based on proper information. As you gather data, you must have the ability to sort the data and convert it into useful information. For instance, take the case of a pharmaceutical or food company that does little or nothing in treating its boiler with chemicals because contamination issues. By collecting and entering data into a software package, one can analyze the data to determine if one of the six manufacturers traps on site provides nearly trouble-free operations (i.e. an all stainless steel float and thermostatic trap). As you review the results of current and past steam trap surveys, the information shows which of the steam traps have low maintenance costs associated with it.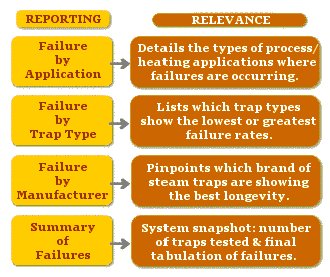 Information gathering:
...the first step in taking control of your system
The first step in building the software database is to take a pad with you and record the relevant data for each trap that you tag and test. The first survey is always the most difficult since it is necessary to input the most information. The reason for this is to allow the user to categorize the future data into useful information for analysis. Subsequent surveys will move at a swift pace because you need only to record the following data: inlet/outlet temperatures and the test status.
The next step is to take a photograph of each steam trap and the application it is draining. Good software should allow you to include this digital record along with all the associated trap data. A competent steam engineer may then determine whether proper attention has been paid to hook-up design. Going one-step further, the photo can be marked-up (in a paint program) with arrows pointing to areas that need modification.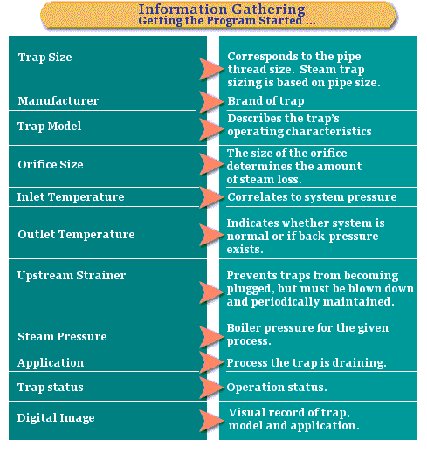 Why plant steam trap programs fail:
Serious students learn, if one is to succeed in life's chosen endeavors, at least two criteria must be met: (1) The willingness to learn new things and (2) An uncompromising determination to chart a course to reach your goals. In order to gain confidence to succeed, we must have the willingness to learn new things. We also live in world where practical knowledge and experience should never be given less weight than book learning. Both are equally relevant. Individuals charged with the responsibility of the steam conservation program must be well trained so that they feel comfortable in accomplishing their duties. Secondly, having an uncompromising determination to chart a course to reach your goals. Then the discipline, patience, and organization to forever stay the course will be gained. Perhaps a good steam trap program for testing and replacement of faulty traps once existed in your facility. Then, an individual charged with instituting the program retired or left the plant. The program left with their departure.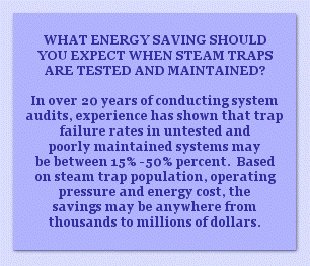 When you purchase a "kit ready for assembly" you are provided with the parts and instructions. If I were to break it down into the two necessary components to begin a steam trap program it would be (1) equipment and the accompanied training necessary to attain your confidence level (purchase your equipment and training from a respected expert in the field) and (2) software that can be used to manage the steam system.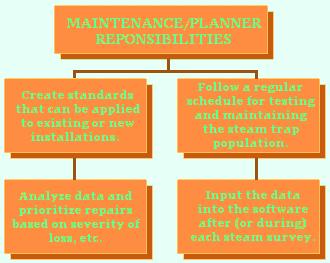 Control your own system:
...contractors should conform to your standards and specifications.
In a large plant environment expansions and re-piping occurs on a regular basis. It is surprising how many plants have not created standard specifications on: (1) which trap manufacturers and models are required (2) proscribed piping schematics for particular process applications (3) provisions for strainer blow-downs (4) placement instructions for check valves, air vents, vacuum breakers, etc. An outside contractor should never be given free reign over your system. Especially when you have worked so hard in making it efficient and well maintained. Remember, after the installation, you are responsible for the system.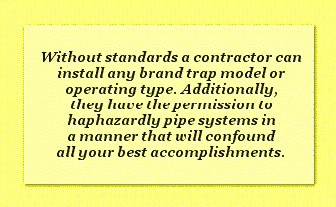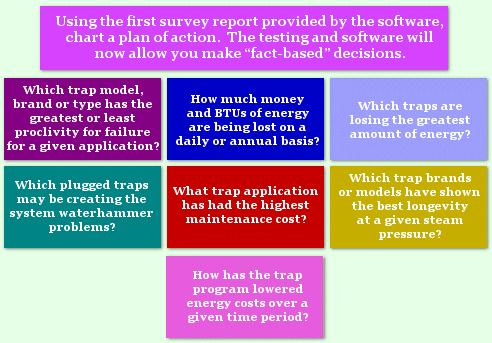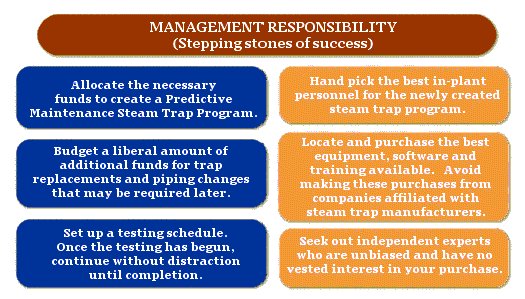 Steam traps are the most important link between the steam and condensate system. A malfunctioning steam wastes steam as it blows through to the condensate side of the system. The days of cheap energy have ended with a reverberating bang, as has the ability to take skyrocketing fuel costs for granted. It is imperative that a steam system be regularly monitored for loss, not only for the sake of producing quality products swiftly and efficiently, but to survive in this highly competitive environment. More information on steam software and system design can be found at the following websites:

---
Copyright 1996-2009, The Plant Maintenance Resource Center . All Rights Reserved.
Revised: Thursday, 08-Oct-2015 11:54:47 AEDT
Privacy Policy